New 2019 Mercedes S Class Overview from Mercedes-Benz of Chesterfield | Mercedes S Class Key Features O' Fallon St Louis Missouri
Every industry has its champion. Every champion has its core competency that rises them above the rest. For Mercedes, that core competency is the ability to make a luxury vehicle that pushes the boundaries of innovation time and time again. The S Class by default is the pinnacle of engineering at Mercedes. The 2019 Mercedes-Benz S Class provides a first hand view of the future of vehicle technology to come in the following decade. Years ahead of their competitors, the S-Class taunts the rest of its competition with superior technology. Surrounded by equipment, the S Class is capable of adjusting under any environment and ready to handle all incoming situations, the S-Class finds harmony in the capability of autonomous driving technology working together and inspires confidence in a driver. Today's S Class is capable of changing lanes with the tap of a finger, predict incoming tollbooths, and help prevent collisions, even from the rear.  Find the perfect
Mercedes S Class
 sedan or AMG model at Mercedes-Benz of Chesterfield today!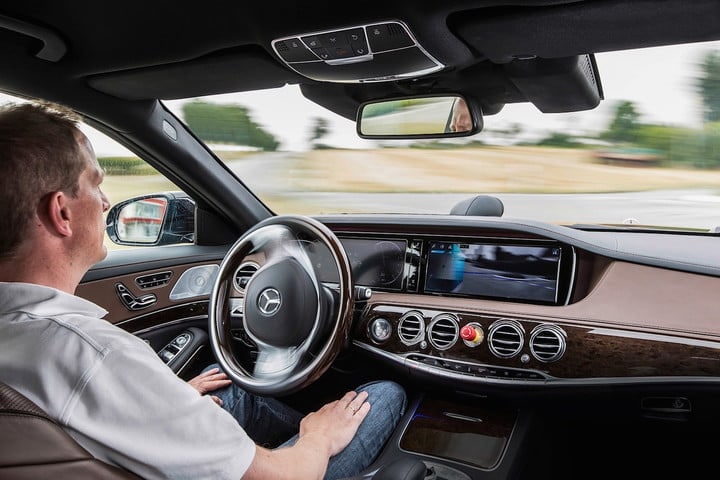 Mercedes S Class Key Features | Mercedes-Benz S Class Available Near St Louis O' Fallon St. Charles Chesterfield MO | Mercedes-Benz S400 S450 4MATIC S560 AMG S560
The 2019 Mercedes S Class is the first car with 100% LED lighting, which shines through the newly renovated LED headlamps and adapts to curves and angles that lie on the road ahead. New Ultra Wide Beam technology takes high beams to new widths powerful enough to project lighting to help navigate your S Class effortlessly at any time of the day. The infotainment merges with the dash with the help of 2 12.3" widescreens that integrate the instrument panel with entertainment, navigation, and more. Entertainment is sourced with the help of standard Apple CarPlay and Android Auto, with wireless charging pads in the front and rear to keep you connected at all times. An attractive interior that is just as comfortable as it looks, the S Class cabin is sculpted, sewn, and equipped to provide unmatched comfort and convenience for you and your passengers.

 

2019 Mercedes-AMG S63 S65 | Mercedes AMG S 63 S 65 | Mercedes-AMG in St. Louis, MO
The engineering team at AMG has been revered as a top class department that has produced some of the most beautiful and powerful vehicles of this century. The racing legacy AMG has created did not begin with a traditional sports car however, but with a S-Class sedan full of power unseen before. For the latest generation the 2019 Mercedes AMG S 63 pushes out a asphalt cracking 603-hp and 621-hp for the AMG S 65 respectively. Taken apart, broken down, and re-engineered down to every bolt, the 2019 AMG S Class has established over 50 years of driving performance excellence.
Performance seeps out  of every crevice of the AMG S Class with a heightened focus on power delivery through a rapid shifting transmission to keep you at the peak of power through every curve. A new 9-speed multiclutch AMG SPEEDSHIFT MCT is upgraded to shed weight and take on more horses as it sends power delivery from your motor to the wheels. Speaking of wheels, new variable-torque AMG Performance 4MATIC+ has the capability of appropriating different levels of power per wheel to maximize grip and efficiency, providing you with a level of agility unattainable in many sedans. 
Suspension receives hand crafted excellence through an AMG Adaptive Sport Suspension paireed with AIRMATIC in the S 63 and MAGIC BODY CONTROL in the S 65. Both offer multiple levels of customization in order to hone in precise suspension sway under any environment. Large 15+" slotted discs and 6-piston calipers add to the mix by providing ultimate stopping power to guide your AMG S Class through difficult turns and incoming hazards. 
2019 Mercedes-Benz S Class Repair & Routine Maintenance at Mercedes-Benz of Chesterfield
Mercedes- Benz of Chesterfield has
service
and
parts departments
that are dedicated to providing high quality work in the West St. Louis area. Our Mercedes-Benz Certified techs are experts in finding and repairing any and all vehicle needs. On top of routine service, our technician staff is skilled in various problems and conditions your vehicle may experience, and will provide you with thorough and in depth feedback so you can make decisions that are right for your vehicle. If you need to schedule a
service appointment
 or would like a free multi-point inspection of your vehicle, you can use our online service scheduler and come see us today!
2019 Mercedes-Benz S Class Finance Department at Mercedes Benz in Chesterfield, MO