New Vehicle Maintenance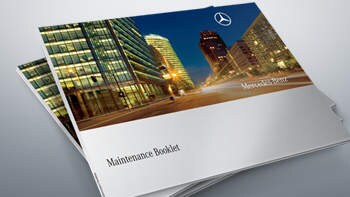 The plan is simple and convenient. Knowing 

that your critical maintenance needs are taken care of right from the start. 

Thats what you get with the pre-pay program, for required maintenance of your new car.
 T

he Mercedes-Benz Star Service Pre-Paid Maintenance allows you to 

Avoid unwanted expenses and surprises by "locking in" the cost of these required services before your first service visit of 10,000 miles, which ever comes first. 

Savings up to 30% when you take advantage of

 the pre-pay program, versus the "purchasing maintenance as you go" method.

Plus 

Purchasing a Mercedes-Benz Star Service Pre-Paid Maintenance allows you to receive service at any participating Mercedes-Benz dealer. If you are on the road, or relocate your plan follows with you and will be honored at all participating dealers.
Overview
When you have your Mercedes-Benz serviced according to its regular maintenance intervals you are investing the long-term health of your Mercedes-Benz. Making sure everything is running appropriately helps preserve the the life of the vehicle, but more importantly increases the safety of you and your passengers. Contact us to consult with a Mercedes-Benz of Chesterfield representative, or check your maintenance manual, for specific maintenance requirements and recommendations. 
We recommend that you allow Mercedes-Benz of Chesterfield to provide your service needs for all of your Mercedes-Benz vehicles. The expertise of our service technicians at Mercedes-Benz of Chesterfield are professional and second to none. We are professionals with Mercedes-Benz specific knowledge on components that keep you safe on the road each day. Electrical and breaking systems, fluid levels, and even the condition of your tires are just a few of many services that the certified trained technicians address during your service visits. We strive to ensure your connection to the road is safe and on par.
Contact your dealer or visit www.mbusa.com/maintenance  for details limitations and exclusions on Mercedes-Benz Star Service Pre-Paid Maintenance. 
Star Service Pre-Paid Maintenance
Starting at just $610 for 20,000 miles or 2 years, which ever comes first, you can preserve your new investment with Mercedes-Benz Star Service Pre-Paid Maintenance.

When you purchase your vehicle there are affordable options for the Mercedes-Benz Star Service Pre-Paid Maintenance plan. Have the cost built into your monthly payment, making it convenient to pay as little as $10 a month. You also have the option to prepay the full amount up front. If you choose not to acquire the plan at the vehicle time of purchase you may still purchase the plan any time prior to your first service visit or 10,000 miles, whichever comes first.

 

Choose from several different plan options designed to fit your specific vehicle model and driving needs including; 2, 3, 4 or 5 year terms, or all the way up to 50,000 total vehicle miles. Ask your dealer about eligibility or call us at (866) 976-3123 to learn more today.
*For details, exclusions and limitations on Mercedes-Benz Star Service Prepaid Maintenance, contact your dealer, visit www.mbusa.com/maintenance, or call 1-800-FOR-MERCEDES.
*Mercedes-Benz Prepaid Maintenance is available for all models except Maybach, SLR, and SLS. Additional maintenance may be required according to your driving habits, mileage driven, and local environment.