Mercedes-Benz Pays Homage to a Classic | 2017 Mercedes Super Bowl Commercial
Mercedes-Benz adds another classic commercial to its Super Bowl resume! Super Bowl LI marks Mercedes-Benz's 4th ad so far. They continue to renovate and impress with the their "Easy Driver" campaign based on the cult film Easy Rider from 1969 staring Peter Fonda. The ad, starring Peter Fonda himself, is set to air during the 4th quarter in the Super Bowl Game on February 5th. Mercedes is enlisting the help of Merkley and Partners once again who have been involved with previous projects.To make the lineup even more spectacular, the commercial will be directed by Oscar winning directors the Coen Brothers. Need to see the 2017 Super Bowl LI commercial early? Check out this years commercial and the 2016 Mercedes-Benz Super Bowl commercial below, or browse www.plazamotorswest.com to shop our current New, Used or Certified Pre-Owned inventory to guarantee that you are making a stylish arrival to the Super Bowl Party you're planning to attend! See how the combined talents of mega directors, a mega automaker and a mega foot ball game create a classic Super Bowl commercial we will surely remember for ages to come!
MERCEDES-AMG SUPER BOWL COMMERCIAL | PLAZA MOTORS WEST MERCEDES-AMG
The #EasyDriver-themed commercial features a group of burly bikers socializing to music "Bad to the Bone" playing in the background at a pit stop. All socializing ends when they learn that they have been blocked in. Not sure why anyone in their right mind would block these bikers in, but the crew is ready to get rough and settle the score with whoever the culprit is. Peter Fonda walking through the parking lot calm, cool and collected may have an answer. Driving away in the featured Mercedes-AMG GT Roadster, the biker crew are at a loss for words. The revelation of how Born to be wild meets built for the wild unfolds, as Peter Fonda drives off leaving only a cloud of dust behind him.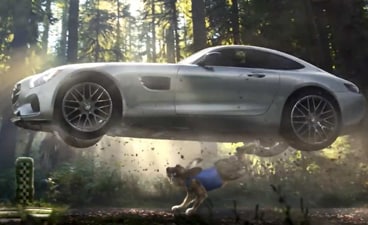 Mercedes-Benz Pervious Super Bowl Commercials | Mercedes Benz Super Bowl 51 Commercial
In 2015, Mercedes took a different approach the classic car ad. They used the big event to retell the most famous of races...The Tortoise and The Hare. Cleverly using the hashtag #TheBigRace, Mercedes encouraged viewers to give their opinions on would win the race. Spoiler alert...The GT was involved and changed the whole dynamics of the race for the tortoise, as it flew threw the finish line in the GT. In 2013, for Super Bowl XLVII, Mercedes coined the CLA as the affordable Mercedes for anyone, without having to sell their soul. The ad shows a normal guy contemplating a deal with the devil, who tempts the young man with a brand new Mercedes and EVERYTHING that comes with it.
Mercedes-AMG Celebrates 50th Anniversary| 50 Years of Driving Performance
Mercedes-AMG has interest in seizing on the eyeballs that the big game draws. During a press event on Monday, January 23rd, Mercedes unveiled the 2018 E-class coupe at the auto show. Mercedes-Benz in 2017 celebrates the 50th anniversary of Mercedes-AMG, its sports car and high-performance brand. The theme is "50 Years of Driving Performance." Engineers Hans-Werner Aufrecht and Erhard Melcher started AMG in an old mill in Burgstall, Germany, with the mission of developing and testing racing engines for Mercedes vehicles.
Mercedes-Benz Dealership Near Me | Mercedes-Benz Dealer in O'Fallon
Plaza Motors West  is the premier Mercedes-Benz dealer serving O'Fallon, Chesterfield, North County, St Charles, and other surrounding cities of St. Louis, Missouri. Are you looking for a new or pre-owned luxury vehicle near O'Fallon or St. Charles? Stop by our dealership in O'Fallon today. We are Mercedes-Benz dealership providing full services utilizing a state-of-the-art service center. We take pride in providing superior customer service to make sure every customers experience is the best experience in Missouri. Plaza Motors West provides customers with several online tools to help make financing your next vehicle as simple and convenient as possible. Check out our car payment calculator, online credit application and our car valuation tool to help determine how much your car is worth. We are not a far drive from St. Louis, conveniently right off I-64. Plaza Motors West offers a large selection of lease and finance specials, . Visit us online or in person today! We look forward to working with you.