Do you prefer a coupe over a sedan? If so, the 2016 Mercedes-Benz SLC300 is exactly what you need! At Plaza Motors West we strive to keep you informed about some of the many features of select vehicles in order to assist you in the research phase as you ponder the purchase of a new car.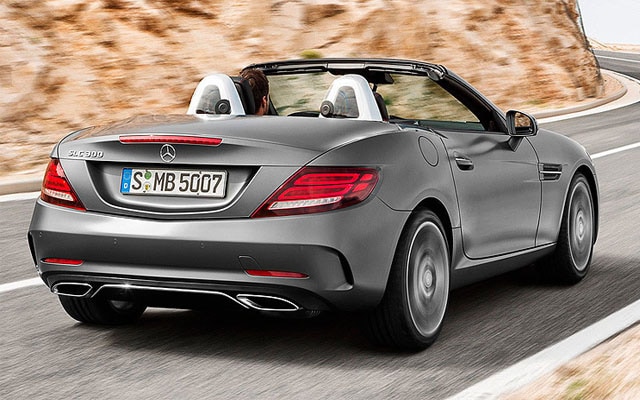 The Mercedes-Benz SLC300 is equipped with a turbocharged 4 cylinder engine and 241 horsepower. If speed is important to you, we can assure you that you will not be disappointed. It can travel from 0 to 60 in 5.7 seconds!
As with most models, there are a few changes to the 2016 Mercedes-Benz SLC300. Some of the changes include the following:
·
Flat bottom steering wheel
·
7.0 inch infotainment system
The overall performance is unchanged, and is everything you have known to expect from all Mercedes-Benz vehicles. We really love the Torque Vectoring Brake function. It uses rear braking to provide additional control during turns.
Luxury vehicle owners demand a certain standard, and this standard is met in the Mercedes-Benz SLC300. An interesting addition is the side mirrors that have lots of capabilities. They can be programmed to fold in automatically when the vehicle is locked to allow for easy parking in tight spaces.
There are many audio and entertainment features to note, but there is but one that we will inform you about. It is one of our favorites! Drivers of the 2016 Mercedes-Benz SLC300 have the ability to control audio, video, hands free calling and more from a 7 inch color in-dash display.
At Plaza Motors West , we strive to be an information source for customers. If you are interested in viewing our inventory of 2016 Mercedes-Benz SLC300 coupes, you can do so
here
. We would be happy to give you a test drive when convenient. Don't hesitate to browse our website monthly to view blog posts and other pertinent information.